Valentine's Day Lingerie Trends for 2018
So it is that time of year where we need to find some new Valentine's Day lingerie.
With February arrival, we all await the most coveted holiday of the month: Valentine's Day. A day that celebrates love, Valentine's Day embraces romance. A special day calls for special measures, perhaps a romantic night out. A romantic date night planned with a special someone calls for something more than just a dinner and a movie. Whether you are trying to rekindle an old flame or spark up a new romance, if there is one thing that will help you do that, it is some sultry lingerie.
Naughty and nice; lingerie is the perfect way to spice things up in the bedroom and get excited. If you are single and ready to mingle, Valentine's Day may not be your favorite holiday but why make a holiday about anyone else when you can do so for yourself? Empower yourself and feel liberated in your own skin.
Enjoy your body in all its imperfections and flaws and learn to embrace it. Lingerie will only make you feel sexier. This Valentine's Day, embrace your inner goddess. Treat yourself or your partner to some delicious eye candy with some of our favorite lingerie picks that are perfect for Valentine's Day (and for basically any other special night). Keeping your personal style in mind, there is something for everyone. Let's get started.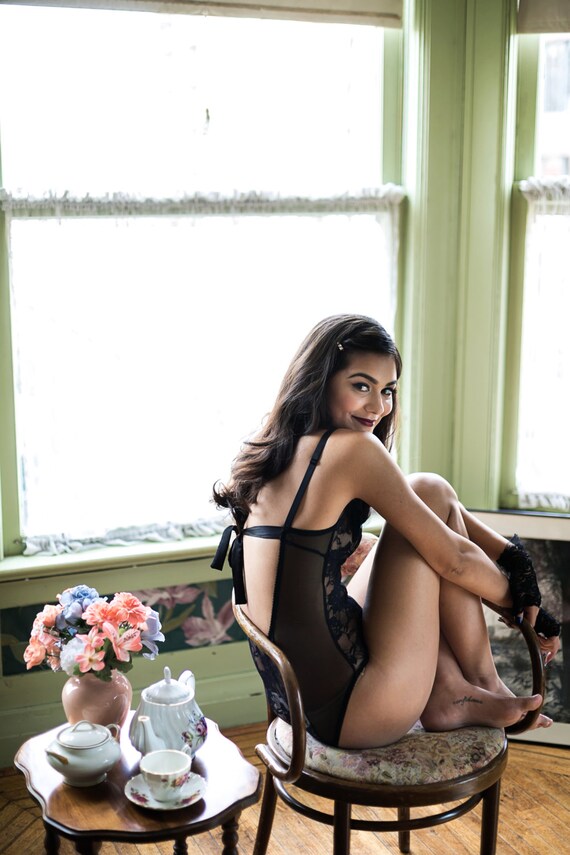 Next to Nothing Valentine's Day Lingerie
For the risqué and bold, there is nothing sexier than a barely there 2 piece lingerie bikini that allows you to really flaunt your body. Ideally made with silk fabric, this bikini will hug your curvatures and accentuate your assets like nobody's business. The best part about this piece is that it is incredibly versatile. You can even double duty this one by wearing this under a blazer and live out your runway model fantasies. The perfect mix of chic sophistication and sultry edginess, this style is not one for the faint of heart.
Keep Calm and Wear Silk
Silk is your day-saver fabric for any romantic occasion. When in doubt, a silk Carmeuse bra and panty set is the best to bring in the comfort and passion. You can play with the colors by choosing deep red to candy-colored set that'll soothe the eyes on you.
Lace and Silk Slip Dress Valentine's Day Lingerie
If there is a fabric that is almost always associated with sexiness and comfort, it is silk. Silk is a luxurious fabric that hugs your skin in a way that it flatters your curves in the best way possible. A silk charmeuse with lace or net borders complete with an elastic band for fit paired with complimenting underwear is as comfortable as it is appealing. Simple, comfortable and incredibly sexy; what more could a gal ask for?
A Victoria's secret classic satin slip is impeccable to wear under your Valentine's Day outfit. You can play safe by opting for the colors like powdered blush, to deep burgundy tones.
Romantic Scarlet Chemises
Your Valentine's Day wardrobe calls out for the sizzling red hot hues, and you shouldn't ignore it. Mostly, this is an all-day affair, so chemise is the perfect piece for pairing with your wardrobe. You can go with short silk robe in flirty blush shades or try a scarlet camisole to be included in your Valentine's Day looks.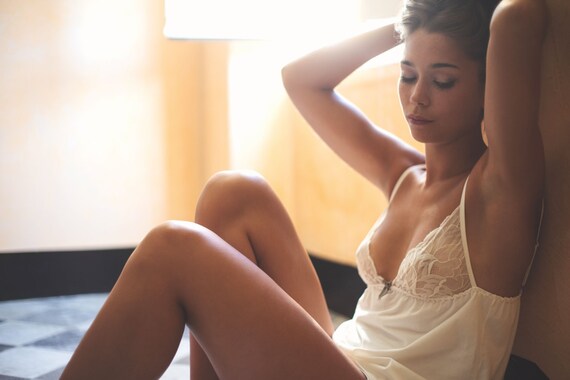 Simple and Basic Valentine's Day Lingerie
This style is known for its "I do not care" vibe. This lingerie style is the cute basic staple item every girl must have. Not intended to please anyone but them, this design, a favorite amongst most ladies comprises of a strappy bra and briefs finished with fine detailing for some added glam. The bra is designed to provide your breast with the right amount of lift whilst being very comfortable and easy to wear.
Shapewear For That Matter
The shapewear is all back with a bang in 2018, this Valentine's Day, shapewear pieces are better than ever with quixotic details like mesh inserts, lace paneling, and floral cuts. Plus size fashion is trendy since last few years, and it's not going anywhere. You can get lots of fashionable shaping with sheer, lace, and silk.
Bodysuits for Versatility
This season, stand out with comfortable, easy to wear, and stylish bodysuits. You can wear them with embellished jeans, with skirts, and heels. This seamless, smoothing shapewear has been turned into exotic lingerie option as it can hide a multitude of faulty zones and bring up flawless look in no time.
Bodysuits have become an essential piece of your lingerie drawer and will prove useful under your Valentine's Day outfit.
Embroidered Black Body Suit Valentine's Day Lingerie
For a modern sizzling look, you can never go wrong with this beauty. A more genteel, delicate, and luxe Italian black lace body suit with embroidered details will flatter your body like no other. This sizzling version sucks your stomach in and contour your Valentine silhouette with lace paneling. Match it with winged liner, rose lips, and loose locks.
Laid Back Athleisure
Jazz up your everyday atheleisure by adding mesh panels, heart and floral prints, bold and brighter hues, and additional straps. Sporty luxe is the best if you're into an all-day affair.
Be sporty chic in the most subtle way. Apart of feeling fresh, none can beat the comfort level of the sports bra and brief. Say yes to the 90's by teaming the laid back set with a nude makeup and wavy locks to showcase your natural beauty.
Sheer and Sexy Valentine's Day Lingerie
For those who truly wish to go all out, embrace your inner badass and go sheer. Sheer pieces leave almost nothing to the imagination. There is an explicable element of grace and elegance yet contrasting boldness that sheer fabric brings to the table that makes it stand out all the more. A sheer lace detailed bra paired with scanty panties and maybe a suspender belt set for a hint of naughty are the perfect lingerie set for you if you wish to rekindle the flame. This lingerie will make sure your partner cannot take his eyes off of you.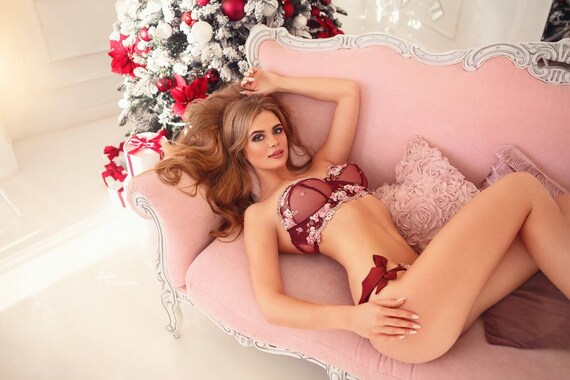 Pastel Blush
Keep it sweet and romantic with pinks, pastels and blush tones. Nothing screams feminine more than the trusty old pink hues. Net and lace pink and blush hued lingerie is comparable to frosting on cake. Add some detailing and you have your sprinkles. Look like the hottest birthday cake out there in some deliciously pink panties.
Valentine's Day Lingerie Retro Pin-Up Styles
Retro pin-up style lingerie is ideal for those who love the good old vintage ensemble of a classic satin balconette bra and high-waisted bottoms. Simple yet stark and edgy, pin-up lingerie is the perfect mix of conservative yet modern fashion. Luckily unlike olden times, the bras are not cone shaped but perfect fitting.
Romanticize with Lilac
Colors matter a lot. When everyone's going red on Valentine, you can go with something different to stand out. Lilac set would give a 'calm and soothing' feel to your Valentine's Day attire by eliciting romance.
Boudoir Ready Valentine's Day Lingerie
Deep scarlet lace swirls your femininity with peek-a-boo paneling is just perfect to upscale your Valentine's Day fashion game. Bring in the luscious lace style this Valentine to your boudoir session.
Alarmingly Sexy
Red, hot, and sexy –it's all about Valentine's Day; isn't it? Add more drama with a sizzling fire-engine bra and panty set. Edging with pretty details, the tulle Balconette Bra set will set the fire on by flawlessly highlighting your curves.
Lace and Ribbon
If you love to play it safe, lace and ribbon are guaranteed winners. Some statement colors to play with a sultry black, a deep mysterious maroon, or the minimalist nude beige. Lace and ribbon might sound boring to some but they can go from basic and boring to sexy and exciting in no time by playing with just the simple details.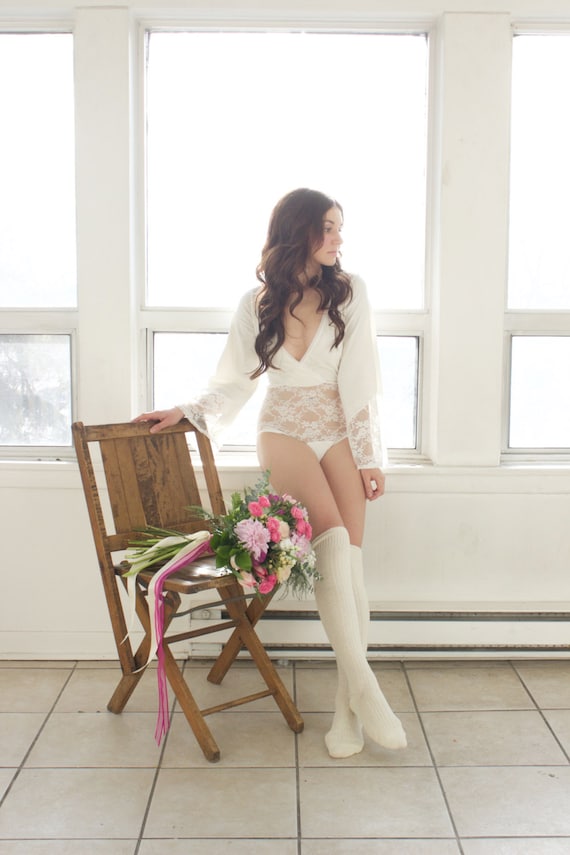 Bows and Buttons For Your Valentine's Day Lingerie
For the girl who loves a good bow every now and then, try to seal things in your lingerie with a bow once in a while. Lace is a delicious fabric on its own. If you wish to look like a present just waiting to get unwrapped, switch things up by getting a little bow detailing on your bra and underwear. Simple, elegant, and classy; this style is perfect for the reserved shy girl who is just waiting to bloom and blossom out of her comfort zone.
Playsuit Fun Valentine's Day Lingerie
Two pieces can be quite intimidating for those who are a little shy. Playsuits are perfect for those who are first timers or just struggle with some body image issues or are simply shy. Playsuits are just as comfortable as they are sexy. They hug your torso in the most flattering way possible and look effortlessly chic on all body types. Playsuits are almost always a concoction of different fabrics; the most popular pairing is that of jersey with a sheer tulle or net bra with intricate detailing. Just the right amount of flirty and sexy; playsuits are the chic lingerie item every girl needs.
Traditionally Chic Valentine's Day Lingerie
White lace is a hit or miss for many. Often compared to something that your grandmother would wear, traditional lace cuts are ignored by many when browsing through the racks. The trends however, suggest otherwise. White traditional crochet lace lingerie is just as sexy today as it was 50 years ago. Sweet, innocent and feminine, crochet and lace adds an element of concealed sexiness to your lingerie which makes it all the more exciting.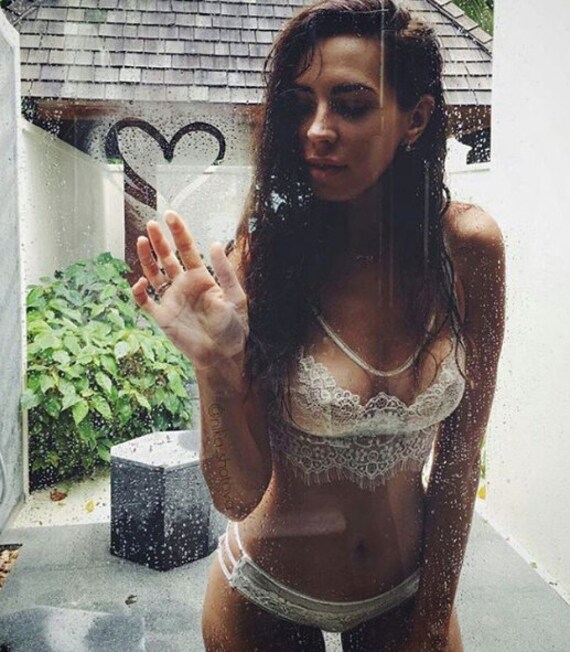 Bare and Backless
Tired of the same boring two piece lingerie? Try to switch things up by going backless. Backless lingerie can be worn under your favorite backless top and manage to provide excellent support to your bust thanks to the high-waisted cut. The deep set back is ideal for showing off your sexy shoulder blades and getting things hot and heavy. Often paired with a lace or net bra that leaves almost nothing to imagination but is enough to make the peekaboo element stand out; backless numbers are a must have in every girl's lingerie arsenal.
Valentine's Day Lingerie For The Naughty and Wild
For the wild daredevil, there is no limit. Be as creative and your heart desires. Think: animal prints, faux fur detailing, cut out raunchiness, scanty straps, bondage cuts, and what not. If you are ready to let yourself go all out on Valentine's Day then you do you. Let your inner sex goddess take over and reign supreme. Role play if you have to because it's Valentine's Day. Each of these wild and naughty styles is guaranteed to get your partner in the mood for a long night of fun.
Breathe life into your wildest fantasies and indulge into pleasure. Valentine's Day is a day that celebrates romance. Get with the trend.