10 Ideas To Make Your Outdoor BBQ Entertaining A Success
These 10 ideas to make your outdoor BBQ entertaining a success are sure to turn your annual BBQ into the talk of the town. Throughout North America you can almost expect to be invited or host a BBQ during the summer months of June, July, and August.
Although the weather can start to drop in September there will still be a few great autumn days left to host your BBQ. To be honest though you can host a BBQ anytime of the year not matter if it is rain, shine, snow, or sunny days.

Serving Cold Drinks on Hot Days
One of the best ways to greet any guest to an epic BBQ on a hot day is to meet them with an ice cold drink. As we all know the devil is always in the details. Even your glasses are going to be judged by your guests. Although most won't care if they are greeted with your classic disposable red cup.
The problem with these cups is they are plastic and bad for the environment. Most of these cups are plastic also but they are not meant for a one and done party. They can be used year after year at your annual BBQ.



Rubs, Spice Mixes, Seasoning
There is just something amazing about a meal that is entirely prepared on the BBQ. To truly top it off add some cold salads like tossed, potato, or pasta salad.
The key to any great meal is to accessorize. A well-seasoned, marinated, spiced piece of BBQ is a beautiful thing.
Although these spices are meant for meat they also taste great on different vegetarian and vegan options.



Wine for When You Need To Stay Hydrated
As the summer heats up a lot of us reach for a beer, wine cooler, or mixed drink. Well summer 2017 is going to be the season of wines.
No matter if you are into reds, whites, or roses you have to make sure you present it well to your guests. Having a nice set of wine glasses probably isn't necessary for your backyard BBQ. The last thing you want to do is spend a ton of money on new wine glasses and have them break on your deck or backyard patio.



Picnic Table Storage
Keeping your cutlery and napkins is essential during a summer BBQ. All it takes is one strong gust of wind to send your guests scrambling for their napkins.
Salt and pepper shakers, wooden napkin holders, and glass holders are perfect way to keep your tables organized and everything together.



Aprons for the Pitmaster
Juice and grease splatters are bound to happen while you are working the grill for a large group of people. Aprons are the perfect accessory for your Pitmaster doing the grilling.
From funny to vintage these aprons are sure to impress your guests.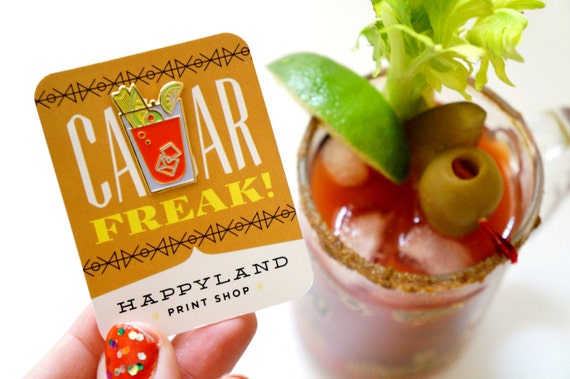 Caesar Freak! Enamel Cocktail Pin
Backyard Games to Keep Them Occupied
At just over the midpoint of our 10 ideas to make your outdoor BBQ entertaining a success it is now time to look at some ways to keep your guests entertained. Backyard games are perfect for summer hosting as they keep your guests busy and give people a chance to mingle.
Hosting a party with competitive games is one of the best icebreakers you can have to engage your guests.


Awesome Ideas to Cool and Keep Your Beer Cold
A chest, cooler, or bucket is all you need to keep your beer frosty and cold. Nothing is more refreshing on a hot summer day is an ice cold beer.
Wine coolers, hard lemonades, sodas, juices, and bottles of water are also essential at any great BBQ.


Patio Décor That Will Shock and Awe Your Guests
For a lot of us BBQ or not we spend a great deal of time working on our outdoor spaces in the summer. Depending upon the type of party you are hosting will dictate how you plan to decorate your yard.
A wedding BBQ is still a wedding and you will probably decorate with your run of the mill wedding decorations. On the contrary a rustic themed BBQ will call for completely different decorations.






Welcoming Garden Signs to Greet Your Guests
Rustic and vintage themed wedding signs are the perfect addition to any backyard BBQs. They are a great way to greet your guests and let them into your decorating style and character.
Let people know what you love. If you love gardening get a gardening themed sign. If you love nautical beach themes get a beach themed sign.


Outdoor Lights To Set The Tone Of Your Party
As day turns into night you are going to need some proper lighting to keep the party going. Classic BBQ lighting includes mason jars, lanterns, and no solar lamps.
Not only is the lighting functional and will keep your guests on the right path but it is also good for setting the mood of the party.


Hopefully in our 10 Ideas To Make Your Outdoor BBQ Entertaining A Success we helped you a little plan your summer time party.