Homemade Primitive Christmas Tree Ornaments
I'm not sure what it is but their is just something truly beautiful about homemade primitive Christmas tree ornaments. It could be that they bring back some of the nostalgia of the holidays past or it could be that they are made of timeless designs that will look good on our Christmas trees forever.  No matter what it is vintage Christmas ornaments really make me feel the spirit of the holidays.

Christmas is a time for sharing and also a time for spending time with friends and family. One of the best ways to bring the holiday cheer to your friends and family is to invite them over to do some holiday crafting with you. An afternoon on the weekend is a great opportunity to have loved ones over to make some homemade primitive Christmas tree ornaments that they can take home with them.  An evening with the kids making felt cut out is a great way to create your own family holiday memories.  Children love to do crafts and as they grow up they can take the ornaments they made as a child and use them on their own Christmas tree. As a parent you will be setting them up for the future to make their own traditional Christmas crafts with their children also.


Although your elegantly decorated Christmas tree alone won't give your entire home that traditional Christmas feel you are going for alone it is the centerpiece to your holiday decorating. Decorating for the holidays is just like any type of fashion or design. A look is truly achieved by all the small details you put into it. If you truly want to have a traditional primitive Christmas this holiday season you are going to have to decorate in the style from the inside out.


That vintage Christmas style is achieved by using certain type of Christmas ornaments and decorations. The style, color, and materials used will all need to be considered when decorating your Christmas tree for primitive style. Below are some of the most popular materials used to make homemade primitive Christmas tree ornaments.
Popular Materials Used To Make Primitive Homemade Christmas Tree Ornaments
Wood, Sticks, Or Branches
Felt
Wool
Cotton
Yarn or String
Glass
Primitive Country Ornaments
The one thing the country speaks to is family. As we think about a rural lifestyle we think about more simpler times and a strong commitment to family values. Since Christmas is a holiday that revolves around family and tradition it is no wonder that these holiday decorations are so popular. These traditional ornaments are usually made with softer or duller colors. Brighter colors typically speak to more modern times of holiday decor. As we said above the material used will be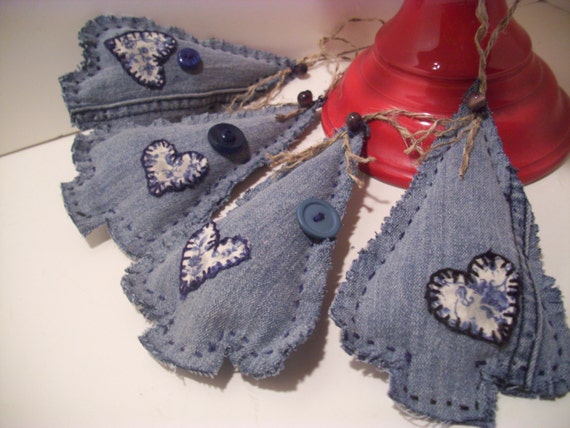 Cheap Homemade Christmas Ornaments
Deciding to completely switch your Christmas tree decorations over to homemade primitive Christmas tree ornaments can get very expensive if you try and do it all at once. When it comes to holiday decorations it is best to build your collection up over the years. Don't worry about fads though. The traditional style of Christmas ornaments have been around for a very long time and they are not going anywhere anytime soon.

If you are like myself and not really the crafty do it yourself type you can find beautifully handmade Christmas ornaments online that won't bust your Christmas budget. The internet is a great place to shop for deals on handmade primitive Christmas ornaments. A lot of people just like yourself have turned their passion for making beautiful rustic Christmas crafts into a business for themselves. You will find their is a lot of competition for this type of business online which helps keep the prices down. Also a lot of these craftsmen and women don't have to pay for a storefront and staff which also reflects in the prices you pay.

Save
Save
Save
Save
Save
Save
Save
Save
Save
Save
Save
Save
Save
Save