Rustic Country Mason Jar Bathroom Sets
One of the greatest ways to accessorize your bathroom is with rustic country mason jar bathroom sets. Not only do they look great in a country or traditionally decorated home but they also look really great in more modern bathrooms. Why might you ask? Well the reason behind that is when decorating any home either from the ultra-modern to a season log cabin you want it to feel like a home. Certain images remind of our memories of home. One of those very popular items today is Mason Jars. A lot of people today have memories of seeing mason jars not only in our childhood homes but also in your grandparents homes. These mason jars carry a bit of nostalgia for a lot of us and bring back memories of loved ones from our pasts and the memories we shared with them.
I can fondly remember walking into my mothers or grandmothers pantry to see row after row of mason jars that were used for canning vegetables in the late fall. The image of the mason jar brings back images of these women in my life that I loved not only canning fruits and vegetables but also the days they spent in their gardens doing what they loved.
I am sure that I'm not the only one who is reminder of these memories when I see a mason jar our two today.
Why Mason Jars Are Perfect For Our Bathrooms
It is really not that hard to understand why rustic country mason jar bathroom sets are perfect for our bathrooms. It is actually really very easy. To put it very simply they look great and they also store things very well. As we have already explained above about why they look great in any type of home let's have a look at why they are so great for storing and organizing our bathroom goods.
Mason Jars were designed for storage and marketed for storage. Originally they were designed for canning fruits, vegetables, and sometimes even preserved meats and fishes for the long term. In the past they were stored away typically in someones root seller or basement to keep their food over the winter months. Today they work just as well for storage especially in bathrooms.
Let's have a look at some of those great mason jar sets that might be what you are missing from your bathrooms.
Great Storage Ideas For Your Rustic Country Mason Jar Bathroom Sets
Below are a few great ideas of how you can use mason jars in your own bathroom to store your accessories in your own bathrooms. From hair products, make up brushes, and jewelry a well placed mason jar will clean up all the clutter you can throw at it.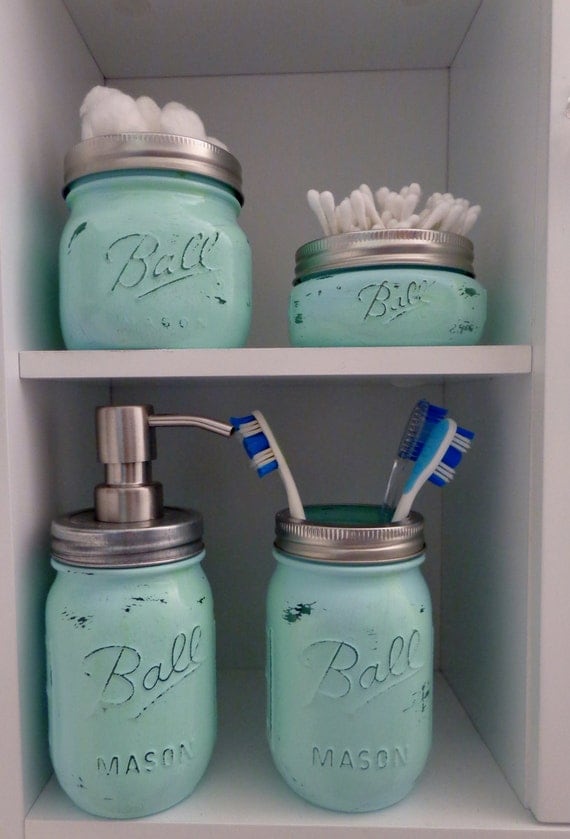 Why Are Mason Jars So Popular
What makes mason jars so popular for bathroom storage is that they come in a variety of types and sizes. All you have to do is look above and you can easily see an assortment of options when it comes to different sizes and types. Also their lids are composed of two parts. A top piece that sits and seals to the top of the jar and also a piece threaded piece that secures the topper to the jar. With your mason jars a decorative storage pieces you can use one of the lids, both, or none depending upon what function you want it to serve and also how you want it to look.
A popular look today is that weathered or rustic chic look. 75% of that look can be achieved with just a mason jar. Mason jars alone are an inconic image that speaks to a country or shabby chic look.
Another reason that mason jars is so popular today is they are super easy to use in a DIY craft or project. The jars themselves have their very own iconic look and they are an affordable medium to work with. The average jar might only run your a couple dollars so in comparison to buying a set you might want to consider making your own set.
DIY Rustic Country Mason Jar Bathroom Sets
When it comes to decorating your rustic country inspired bathroom you can run into a road block our two. You might find that perfect piece but unfortunately the color is just not right. You might find the right color but lid options are not what you are looking for. Well when it comes to mason jars they are easy for the novice home DIY man our woman to work with. A little bit of paint and maybe some metal sheers and you are well you your way to completing your next home DIY project and also a beautiful rustic country bathroom set.
DIY Chalk Paint Mason Jar Examples
Below is a great Youtube video just to give you a little bit of inspiration on doing your very own Rustic Mason Jar Craft Project. Their is a lot of great videos projects on Youtube that will help you achieve the Rustic Country Mason Jar Bathroom Sets you are after.
What You Will Need For Your DIY Rustic Country Mason Jar Bathroom Sets
Weekends are the perfect time start a DIY project. But sometimes it is hard to know exactly what you will need for your project. The good thing about Mason Jars is they are very inexpensive to work with. One of these jars at your local supplies store will probably only run you a couple bucks. So if you have more time than money its a great idea to build your own. You never know after your friends and family see what you can do you might be well on your way to starting your own business.
Although the mason jars look great on their own their is actually a lot you can do with them. You just need to hit up your local craft store and get yourself the right supplies for your project.
Below are just a few things you will need to start your own Do It Yourself Mason Jar Sets Project
Mason Jars – Not only do the come in a variety of brands but they also come in different shapes and sizes.
Mason Jar Lids – Give you a lot of design options. Since the lids come in two parts they can lock your goods in air tight or leave them open to the elements.
Paint – Trendy right now for mason jars is chalkboard paint colors. They give you that warm country feel that we know you are looking for in your bathroom. But with all honesty a mason jar could be painted with any color your could imagine. Some choose to do one color and some will do an intricate painting on all of their jars.
Newspaper, Paper towel Or A Drop Cloth – Before you begin your project prepare your work space to be clean and tidy. Make sure you put newspaper or a drop cloth down if your are working with paint. Have paper towel on hand just for quick clean ups and any paint that should get on your hands.
An Old Container, Water and Wipes – Not only is it good to reduce, re-use, and recycle but if you a crafty guy our girl you will want to save a few of your plastic containers. They are great to hold water for washing your paint brushes but also great for storing all of your craft supplies. Wipes are also recommend when you are working with paint as they are a great way to keep your hands paint free without having to touch your sink or faucets.
Sponges. Paint Brushes, And Rags – All provide a different affect when you are applying paint to your mason jars. Try different types of brushes, sponges, and rags and the look of your jars will change drastically.
Wire Brush Or Sand Paper – After the paint has dried you might want to give your mason jars that old time look and apply a little DIY wear and tear. A few passes with a wire brush or some sand paper will take the fresh paint off in some places and give you that worn authentic look.
Glue Guns – Mason Jars look amazing with paint but to even step that look up a little why not hit up your local craft store and add a bow, some leaves, or a fake flower. A well placed accessory and the help from your glue gun will turn your beautiful rustic country mason jar bathroom sets into a show stopper.
Flowers – No matter if they are fake or real flowers they are sure to add a feminine touch to our rustic bathroom. Mason jars can act as a vase to hold your fresh flowers or you can accessorize your jars to have a floral inspired theme with fake flowers.
Tin Snips – Sometimes the mason jar lids will be exactly what you will need. Other times you will have to make a few modifications here or there. Tin snips are a DIYers best friend when it comes to Mason Jar Projects. Just be very careful. They are usually very sharp and the cuts you make can put a sharp edge on the lid you have just cut.
Wire – For those of you who like to be organized and crafty wire might be your perfect accessory. Strategically form a grid pattern with your wire and your lid and you have a great way from letting your toothbrushes touch. It will let you keep everything clean, organized, but also accessible to the air so that your toothbrush can dry after a good brushing.
Candles – It is well know that lighting will set the mood. Wouldn't it be nice for your next relaxing bath to have it candle lit with mason jars? Well easy enough all you need is the jars and some candles. Battery operated tea light candles in a mason jar is a safe yet inexpensive way to set the mood with beautiful lighting.
Potpourri, Pine Cones, Flower Petals – Not only look great in a clear mason jar but they may be your best option for a natural odor remover. Impress your guests with a natural ambiance and a bathroom that smells amazing. Rustic Country Mason Jar Bathroom Sets look amazing with natural products you can find just outside your front door.
Hand Soaps or Lotions – Once you have your mason jars painted and ready for use you may want to fill them with your favorite hand soap or lotion. Grab yourself a pump, your favorite hand care product and your are pretty much good to go.
Seashells – Want to keep your bathroom rustic yet nautical? Well add a bit of sand and and some seashells to a clear mason jar. Nothing beats a trip to the beach for a little bit of fun in the sun especially when you are there for a purpose.
Bathroom Accessories – Grab all that clutter from your shelves and sink top. Get them out of the open and into your mason jars for safe, clean, airtight storage.
The beauty of doing DIY projects with mason jars is they are inexpensive to work with, have a classic timeless look, and for very little money can be accessorized into a beautiful functional piece of art. As we said above the look absolutely fabulous in the bathroom but the can be used through out the home to accessorize any room and provide a means to reduce the amount of clutter.
Bathroom Craft Ideas You Can Incorporate With Your DIY Mason Jar Project
Floral Mason Jar Vase – A large Mason Jar can be quickly turned into a floral vase for your bathroom. All you will need is a large mason jar, fresh or fake flowers, and your favorite color of paint.
Tooth Brush Holders – Sick and tired of your tooth bushes just sitting our your bathroom sink counter? Well one of the easiest ways to fix that is to build your very own mason jar tooth brush holder. You will have all the freedom in the world when it comes to building your own Mason Jar Toothbrush Holder. Whether you decide to just leave the top open or you get a little bit crafty and do some wire work like in the photo below you are sure to have a Rustic Country Bathroom in no time.
Mason Jar Soap Dispensers  – We all know the rule. Wash vigorously for 20-30 seconds to have clean hands. Well did you know you can turn a mason jar into a ultra stylish hand soap dispenser? Well you can and for a lot less than you would pay in the store as long as you are a bit crafty. A medium sized jar, a hand pump and a little big of paint will have your guests asking where you got such stylish bathroom accessories.
Drinking Water Cups – We have all been there. A salty dinner turns into a night of getting up to drink water every couple hours. Sure a little plastic cup will do the trick but it will 100% look out of place in your western country decorated bathroom. A clear non-painted mason will not only follow your decor theme but it will also keep you hydrated during those late nights.
Mason Jar Candle Holders – Want to add a little bit of charm and mood lighting to your already beautiful rustic country bathroom. Why not add a candle or two to your Rustic Country Mason Jar Bathroom Sets? The electronic tea lights will give you that warm flicker of a real candle but without the fire hazard.
Mason Jar Storage For Small Things – Cotton Balls, Q-Tips, Nail Clippers, and almost anything else you keep in your bathroom can be stored in Mason Jars. Mason Jars are great for storage. Not only do they look great but the options you have with the two lid system will give you a tonne of options for securing your goods. Whether you choose to have it sealed air tight or you decide to leave it open to the elements your bathroom accessories will be accessible, dry, and all in one place. A few small mason jars in your Rustic Country Mason Jar Bathroom Sets will help unclutter your bathroom.
Let's have a look at some of those great mason jar sets that might be what you are missing from your bathrooms.
Finding The Perfect Rustic Country Mason Jar Bathroom Sets
Below are just a few of the many rustic country mason jar bathroom sets you will find online today. For the one showing at the top of the article you can find it at the shop here. Not only will you find a large selection of mason jar decorative accessories online but it is also worth shopping locally to find that perfect piece.