How To Plan A Wedding On A Small Budget
Our guide on how to plan a wedding on a small budget will help you overcome a lot of the stigmas associated with planning a wedding. The first is that you have to spend a lot of money to have an amazing wedding. Well that is where most people are wrong. What matters the most is that two people are in love and are making a commitment to be with each other for the rest of their lives. It really goes back to the old saying that you can't buy class. Some of the most beautiful weddings I have been to have been small intimate affairs where the wedding is only shared with a few close friends and family.
For the young couples out there it is important to know that the majority of fights had between a husband and wife is over money. Why on earth would you want to take on a tonne of debt for just one day? We know it is an important one but where you save on money you can add personality, style, and love. Keep your wedding budget small and stick to it. You are going to have a lot of large financial burdens coming up in the near future. Its better to save on the wedding so you are ready for the kids, buying a home, and all the curve balls life will throw at you.
Budgeting For A Wedding
Below are some great guides you can download to help you keep on budget.
How To Plan A Wedding On A Small Budget – The Engagement
Our first tip on how to plan a wedding on a small budget is for the fellas out there thinking about buying their girls a ring. You are going to be under a lot of pressure to buy the love of your life the biggest diamond ring you can afford. Well we are here to tell you don't. Buy what you can afford. The only one pushing the 3 month salary budget is the person selling you the ring. If she demands a certain size of diamond she probably isn't the one for you.
Great Engagement Rings For Under $1000.00



So she said yes? Congrats. Its now time to send out your wedding invitations and let your friends and family the big news. One of the ways on how to plan a wedding on a small budget is to buy your wedding invitations online. Online retailers and print shops have an advantage over local companies. They don't have the costs associated with maintaining a storefront. Which means you are going to save some money.
Examples Of Online Wedding Invitations


How To Plan A Wedding On A Small Budget – The Ceremony
When it comes to the wedding ceremony our first tip on how to plan a wedding on a small budget is to try and choose an outdoor venue that you can use for both the wedding ceremony and the wedding reception. This will cut your venue costs down by at least 50%. Another tip is to choose a venue with a natural beauty. A park, a garden, or a friends farm all make the perfect backdrop for a wedding. The more beautiful the location the less you will have to spend on decorations and flowers.
Wedding Decorations and Favors



Buying A Wedding Dress Online
Spending thousands of dollars on a wedding dress is excessive and unnecessary. The amount a wedding boutique markets up a dress is unbelievable but you have to think they are only selling you one dress once in your life. It is a good idea to look for your dress online if you really want to save some money. You are probably going to get it from the same place as the boutique and probably for the same price.
Below are some examples of wedding dresses you can find online for under $1000.00.



Great Bridesmaid Dresses For Less
One of the most important wedding photos you can have is the one of the bride with her bridesmaids in complimentary style of dress to the brides look. But you don't have to spend a fortune for that matching set look. There are a lot of lessor known designers that can give you amazing bridesmaid dress for less. Have a look at these soon to be famous



Inexpensive Gifts For The Wedding Party
Showing your appreciation for the wedding party with a gift is pretty customary. Your friends and family have spent a lot of time and money to see this day turn out perfect. Custom gifts are the perfect way to say thank you. Below are some great gift ideas for both the bridesmaids and the groomsmen.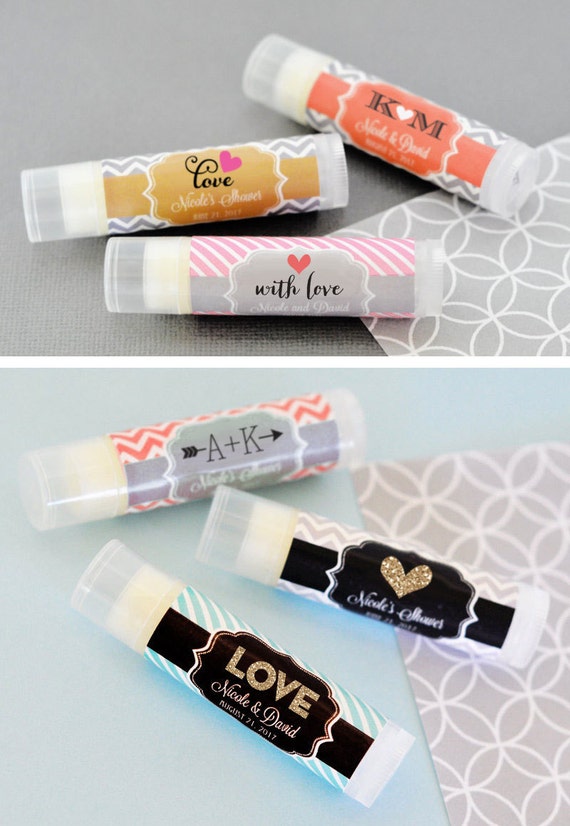 Custom Wedding Lip Balm Favors

How To Plan A Wedding On A Small Budget – The Reception
Feeding Your Guests
One of the best ways pieces of advice we can give you when it comes to how to plan a wedding on a small budget is to wedding a pot luck or bbq. Going through a caterer is going to cost you upwards of $35 -$50 a plate or per person. That really adds up fast when you have a lot of friends and family attending. Pot lucks and bbqs are great ways to bring your guests together as they are less formal and encourage interaction and bonding at your wedding.
Topping A Cake
Traditional wedding cakes can cost hundreds if not thousands of dollars and to be honest they usually taste pretty terrible. One of the best ways you can save money is to buy cakes from your favorite local bakery and top it with your own cake topper.



How To Plan A Wedding On A Small Budget – The Honeymoon
A perfect way to top off a dream wedding is to have a honeymoon. Unfortunately the budget isn't always there after you have just paid for the wedding. Remember there is no shame in delaying your honeymoon for a couple years while you get back on your feet. Another option is to have your guests give you gift cards to a local travel agency. This will help reduce the number of bread makers you are given.
Gear To Let Them Know Your On Honeymoon