Trendy Women's One Piece Bathing Suit Styles for 2018
For those of us about to go one winter vacation it is time to break out that one piece bathing suit for a little bit of fun and sun.
With the month of February approaching its end, we all know what time it is. The cold, gloomy days of winter are gone and the sun is ready to shine bright and fill our lives with warmth again. As the chilly winds turn into a pleasant breeze, it is safe to put away those coats and leggings and finally bring out those summer dresses and swimsuits. After all, what is summer without soaking in that sun and having some pool and beachside fun?
Swimsuit trends are prone to change as is every other trend in the fashion world. Every year, a new style takes the world by storm. A timeless classic, however, is the one piece bathing suit. Simple, secure, sexy and classy; the counterpart and rather an unpopular sibling of the famous bikini, little do people realize that one piece swimsuits are in fact universally flattering on anyone and everyone.
This past year we witnessed an extensive variety of designs ranging from abstract and graphic patterns, strappy details, cutouts, plunging necklines, denim, bejeweled bras, and what not. Some of these designs even made the notorious bikini look tame in front of them. Summer is almost here which means it is the perfect time to plan a vacation.
No vacation is complete without some stunning pictures. We all hate it when others do it but there is a certain satisfaction that comes with spamming everyone's newsfeed with some bomb photos. Up your 'gram game and spam away because these 2018 one piece trends are everything but basic. Let's get started.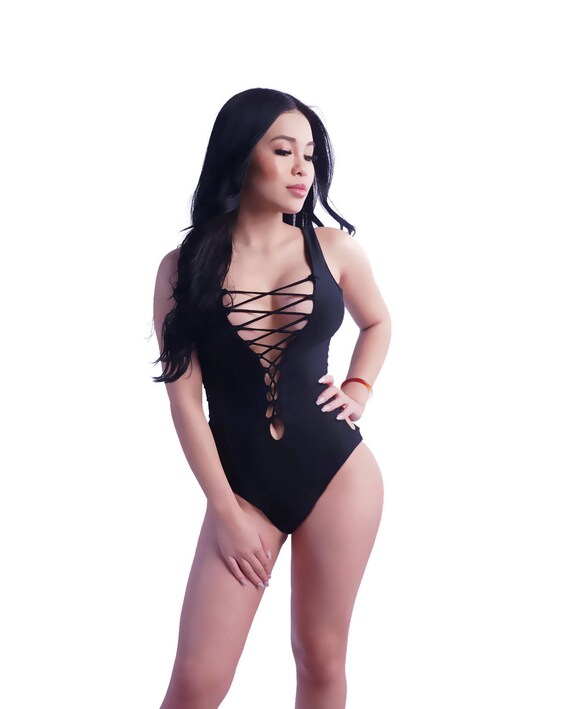 Vintage Ballerina
This retro-inspired cut is classic. Beautifully color coordinated with contrasting hues, this ballerina style suit comes with a simple and chic front and a sultry and creative cutout featured back. The stark color contrasts contribute to creating an illusion of a slimmer physique with the darker hue always placed at the bottom. Flaunt your curves and feel like a sexy vintage goddess with the ballerina-inspired one piece.
Wrapped Present One Piece Bathing Suit
Who doesn't love presents? Wrapped intricately in an appealing cover plastered with illustrations and prints; presents are exciting stuff. Wrapped and printed one-piece suits embody the same concept. Want to look like a deliciously sexy wrapped gift on a warm summer's day? Opt for a wrap style cut with abstract print or illustrations. As if this style of design was not edgy enough on its own, the print only adds to its character and wild side.
Pastel Pretty
2017 was the year of Millennial Pink. It was everywhere. Pastel hues have been quite the talk of the town for the past couple of years and have been dominating the fashion scene. Whether it is shoes, clothes, makeup, anything; it is raining pastels. 2018 however, it all about the lilacs and the lavenders.
Pink is out and purple is in. Plain purple pastel one-piece swimsuits with strappy details are this season's hottest pick. Not only are they muted, simple and plain but they are also elegant, sophisticated and classy.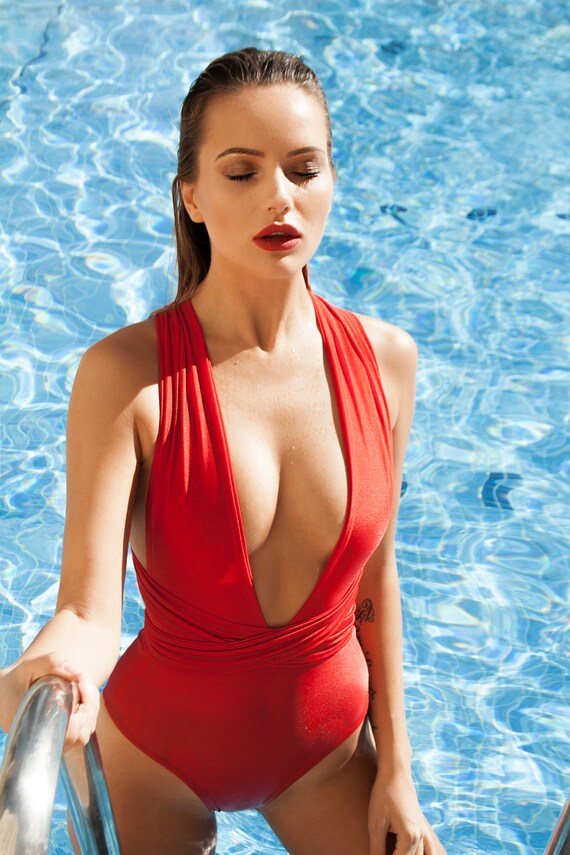 Monokini One Piece Bathing Suit
Monokinis were all the rage in the 90's. Known for their unique design, the monokini was the symbol of badass effortless sexy swimwear. The high cut design was the edgy risque look that took the world by storm when it first came out and the next thing you know, everyone is wearing it. If you were feeling bad about not having to experience what it was like to wear a monokini well then here is your chance.
The monokini is officially back. This whole past year has been all about comebacks. Why not add another one to the list? Super high cut and sexy, if you want to flaunt your thighs and your booty, this is your calling.
Weather Proof
With the sun out, there is always the risk of getting a sunburn, especially if your skin is sensitive. Sunblock is never enough; we all are very well aware of the fact. Sun protection clothing helps so why not incorporate that concept into swimwear? Sun protected, edgy, and fun swimsuits are here to save the day.
Not only do they provide your body with added SPF protection but they are too cute for words. Also, they are manufactured with recyclable materials, which is always a plus. Look cute whilst being protected from the sun. Who said you could not have the best of both worlds?
Baywatch Bae
That slow motion Baywatch run on the beach; hot red one-piece swimsuits with hair effortlessly cascading and dancing as the air gently kisses them; that was what every girl hoped and dreamed of being one day. This high cut Baywatch inspired one piece is probably the sexiest swimsuit you can get your hands on. Bold and vibrant, this style has been sported by multiple A-list celebrities and models fitting every body type perfectly like a glove. Simple, sultry and a guaranteed winner, this year, make all your Baywatch beach running dreams come true.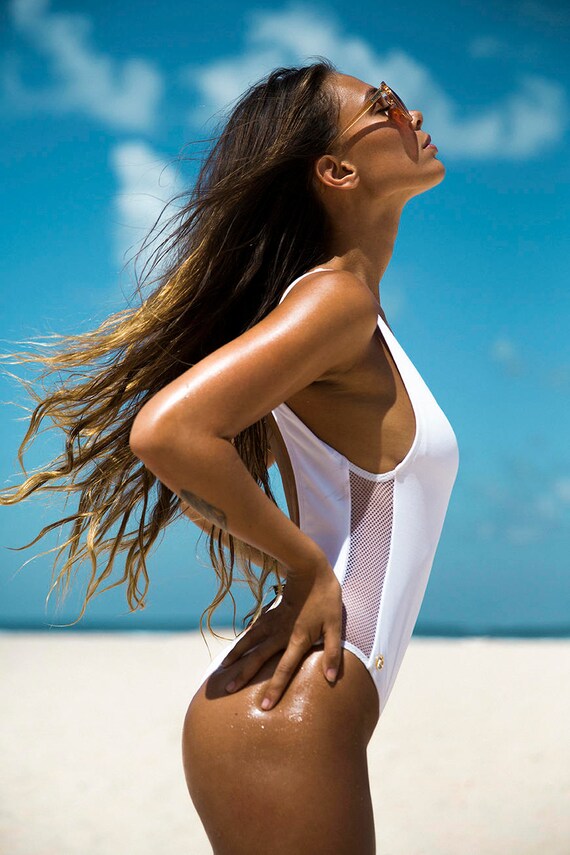 Retro Ruffles One Piece Bathing Suit
Everyone loves ruffles. They are simple yet cute and chic. They add character to a basic ensemble by doing the absolute least. Ruffles were huge in the 70s; so much that they even incorporated ruffles into their swimwear. Since we are on a #TBT streak nowadays with the recent evolving trends, why not make another comeback? Off-the-shoulder swimsuit styles are here and they are classier than ever. With ruffles lining the décolletage in the most subtle and modest way, this style highlights your collar bones like no other. The swimsuit hugs your body beautifully and features a high-waisted cut to balance all the drama on the top. Fun, flirty, simple, and elegant; this is the style for the ladies who like to flaunt their bods but in moderation.
Boudoir Ready
Another vintage cut is here to take the cake. Boudoir has always been associated with sultry and sexy lingerie. Detailed with lace, silk and ribbon accents, boudoir is the epitome of sexy chic. Of course, you must have wished that you could achieve that same look when out on the shore amidst the waves. Well, boudoir bathing suits are now a thing and they are trendy.
Vintage inspired maillots with lace accent details are the iconic one-piece swimsuits you can hope to find in an old photo album from the 50's. Here is your chance to recreate something as timeless as that by taking a picture of yourself donning this swimsuit paired with a large floppy sun hat, and some cat-eyed sunglasses in monotone. Simple yet sophisticated and elegant, boudoir swimsuits are our idea of two birds with one stone.
Straps on Straps One Piece Bathing Suit
This year will be all about the straps. Crisscross straps, intricate straps, halter straps, single straps, one shoulder maillot straps, sporty straps, spaghetti straps; you name it and we have it. Each strap design exudes a different aura, a different kind of vibe. Crisscross straps almost always come with a subdued stylish keyhole detail for that little extra something. Naughty yet subdued and statement, this style is perfect for just about everyone.
Halter neck strap styles are another classic that shows off your back in the most flattering way; simple and timeless. Asymmetrical single straps are a particular standout this season. From Grecian goddess inspired numbers and modern maillot cuts to sporty two-toned waist hugging numbers and the classic single spaghetti strap; 2018 is the year of the asymmetrical neckline.
Rock your straps and show some skin but don't forget to pile on that sunscreen because no one wants funky tan lines.
Grecian Empire Royalty
You have seen vintage-inspired swimsuits from the 50's to the 90's but have you ever seen a swimsuit inspired by an era that dates back even further?
Enter empire one-piece swimsuits. Perfect for the minimalistic gal who loves a basic cut and color palette, this high-waisted swimsuit hugs your curves whilst keeping everything in place with the utmost elegance and class. Chic and modest, this one piece is a must-have staple in everyone's wardrobes.
Want to switch things up a little more? Try your luck with Grecian goddess inspired designs. Laced with beautiful earthy accents, these swimsuits often come with a single strap for added protection in case of any wardrobe malfunctions.
A perfect interpretation of the timeless ethereal ensemble, there is not one person who was not left awe inspired by the raw beauty of ancient times. Both these one-piece swimsuit styles are aimed at those who like vintage-inspired clothing; classy, simple, and sexy, all in one.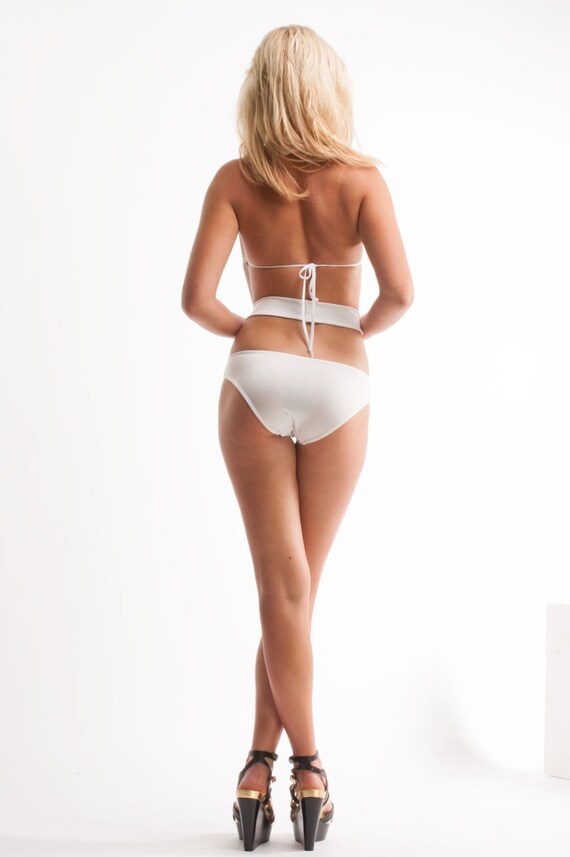 Bottom Lines
This summer season; flaunt your sexy summer bod. Soak in all the sun, swim in the calm waters on the ocean, relax under a canopy of palm trees, and sip on some delicious strawberry mojitos because summer must be enjoyed and frankly, we all could use a break. Find the design that goes with your personal style, and struts and slay!